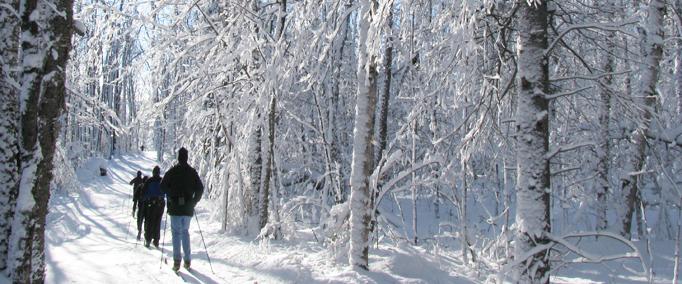 Mission
Overview
The Sugarbush Trail system is an extensive cross country ski trail network and a developing single-track mountain bike trail system in Northeastern Minnesota along the shores of Lake Superior. The system provides a variety of recreation opportunities in the Sawtooth Mountains for the beginner to advanced skier and bicyclist.

A small board of volunteers oversees all aspects of the Sugarbush xc ski trail system. We fund trail improvements, purchase and maintain grooming equipment, make sure the trails are groomed, maintain the Oberg warming shack and keep it stocked with wood and put on the Annual Tofte Trek Fundraiser. STA also works cooperatively with Cook County's Superior Cycling Association to develop single-track mountain bike trails in our area.

Purpose
This corporation is organized exclusively for charitable, religious, educational, and scientific purposes as specified in Section 501(c)(3) of the Internal Revenue Code, including for such purposes, the making of distributions to organizations that qualify as exempt organizations under Section 501(c)(3) of the Internal Revenue Code, or the corresponding section of any future federal tax code.

The purpose of this organization is to maintain, preserve and enhance the Sugarbush Trail system by
Educating trail users about safe and responsible trail use;
Educating the public about the values and benefits of mountain biking, cross country skiing and other non-motorized activities;
Promoting appreciation of and care for public lands;
Building and maintaining trail systems for public use;
Encouraging dialogue between trail users, public/private landowners and other user groups; and
Organizing athletic events.We are working closely with the United States Forest Service, Tofte Branch to accomplish our maintenance, preservation and enhancement goals.
We work closely with the citizens of the community so that they may become involved as well.

Explore our site...discover the trails! The Sugarbush Trail Association maintains 65 kilometers of cross country ski trails through beautiful and remote Forest Service land in the Lutsen-Tofte area, and has partnered to help develop nearly six miles of new single-track mountain bike trails with additional miles in the planning stage.